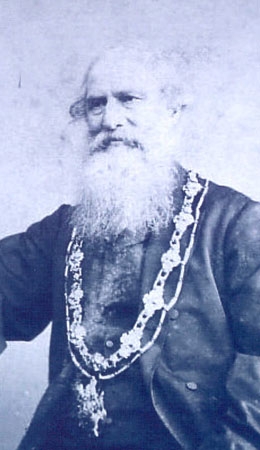 In 1824, Joseph Rhodes, as a young man of 20, built his first machine in a small workshop in Wakefield. From making machines to turn out such items as cutlery and oil cans for households in the West Yorkshire town, the Company has progressed to designing high tech computer controlled machine tools for worldwide distribution. And, as Joseph Rhodes was way ahead of his time, the Company still follows that pioneering spirit of invention and innovation.
In 1899 Joseph Rhodes and Sons became a limited Company and registered the Colossus of Rhodes as its trade mark.
In 1921 the Company expanded into its present 8-acre site at Belle Vue, Wakefield. The new factory provided an ideal platform for the Company's continued growth.
Joseph Rhodes had entered the export market early in its history, opening an office in Paris as early as 1910, but exports increased sharply after the Second World War particularly to Europe and the USA. In the 1950s the export drive was further assisted by Rhodes invention of the world's first hydraulic shear and press brake, which received patent protection in 1943.
A series of innovative products rapidly followed the introduction of the hydraulic shear, amongst which the stagger feed press, for the production of such tin plate as canister lids and shoe polish tins, and the impact extrusion press used in the forming of battery casings and toothpaste tubes, proved particularly successful.
By the mid 1950s the Company could boast a product range of 1000 types of machines for the sheet metal working industry. The British Machine Tool Engineering Magazine for March 1954 claiming such a range to be "the largest variety made by any firm in the world".
In 1961 Joseph Rhodes was acquired by Lindustries, who were themselves the subject of a successful take-over bid by Hanson Trust plc in 1979.
In 1984 the Hanson Board agreed to a Management Buy-Out by the then Commercial Director, Ian Ridgway and Production Director, John Blacker.
In 1994 John Blacker retired returning the now 170 year Company to a family business owned by the current Chairman, Ian Ridgway.
Since 1985, the new management team have successfully completed a number of acquisitions of synergistic manufacturing companies. Renowned throughout world, the subsidiaries include the international names of:
"Group Rhodes" came into being in 2001 as a result of the acquisition of Craven Fawcett. Established in 1843, Craven Fawcett was a pioneer in the field of Clayworking machinery.
The 'Craven' side of the business was founded by William Craven and Richard Bradley, two young engineers who produced revolutionary machinery for automating the production of bricks. By 1853 the company's Stiff Plastic Brickmaking Machines were being sold throughout the UK and to many overseas markets, including South Africa, Germany and Australia. In 1972 Bradley and Craven pooled their resources with rival Leeds firm, Thomas C. Fawcett.
In 2003 Group Rhodes purchased a division of engineering companies from Motherwell Bridge Plc, which it renamed Rhodes Interform Limited. Today Rhodes Interform designs and manufactures special purpose built presses and machinery. Subsidiary companies include the international names of Fielding and Platt, Chester Hydraulics, John Shaw, Henry Berry, Beauford Engineers and Berry Refractories.
Geared towards efficient and effective production, the Interform standard range of machinery is utilised throughout manufacturing industry, from the nuclear and pharmaceutical sectors through to plastics and textiles. Rhodes Interform also provides complete turnkey solutions for specialised machinery, particularly for high technology applications within the Aerospace industry.
More recent additions to Group Rhodes include Beauford Engineers, originally based in Elland, West Yorkshire, but re-launched in 2005 as a supplier of equipment for deep sea oil and gas exploration. Technology from this business, combined with that from the Group's aerospace division was used in 2009 to launch Rhodes Environmental, a provider of processing technology to the waste management industry.

2009 also saw the purchase of Hallamshire Engineering Services, which specialises in the supply of bulk material handling equipment for the quarrying and mining industry. In 2012 Group Rhodes purchased Slater and Crabtree, one of the region's leading precision engineering firms. Atkin Automation previously of Thetford (Norfolk) joined the group in 2014.
Although today the product range, methods of production and markets serviced have changed enormously since 1824, Group Rhodes remains proud of the fact that it nurtures a dedicated workforce in a traditional yet dynamic manufacturing environment. The development of skills, training and vocational qualifications are an essential part of the Group's policy for future growth and the need to meet the challenging demands of an ever-changing marketplace.