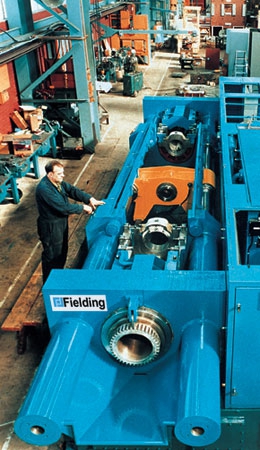 Fielding and Platt manufacture a wide selection of machinery ranging from Stretch Forming equipment through to non-ferrous metal Extrusion Presses and Deep Drawing and Ironing (DDI) machinery (pictured right).

Aluminium Plate Stretchers are available with a stretching force of up to 20,000 tonnes although larger machines are available to special design. PLC controlled "in line" stretcher systems with a capacity range of 15 to 60 tonnes are also available from the Fielding and Platt portfolio.

The metal Extrusion and DDI processes are generally used for the hot and cold drawing of circular blanks into tubular components with single closed ends. Close tolerance products produced on Fielding and Platt machinery include items such as fire extinguishers, oil filters, engine cylinder liners and gas canisters.