Rhodes Autoclaves recognise that the aerospace industry expect and demand excellence. Through product development and testing we deliver fully engineered and proven autoclave systems for curing carbon fibre composite materials. These composites or systems are capable of operating 24 hours a day, 7 days a week, in the most demanding manufacturing environment where efficiency and product quality is essential.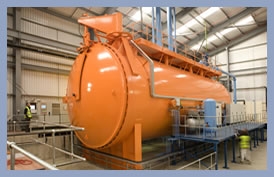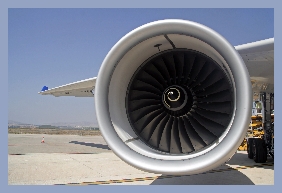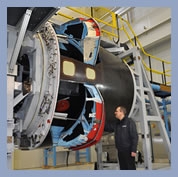 Having listened carefully to our existing aerospace customers, we understand that reducing cycle times and improving efficiency are day to day objectives. We are always delighted to work with our customer's to design and develop specialist product handling systems. These include tooling jigs/fixtures and loading systems in order to reduce the potential for product damage during handling. This allows a speedy loading and unloading process, and optimises the airflow path within the autoclave when fully loaded.
We offer tried and trusted control system packages to meet individual specification requirements. Every component part that is fitted to our autoclaves is fully tested to ensure reliability, accuracy, and long life; wherever possible, standard "off the shelf" components are always selected. We strive to offer the solution that best meets both your specification and budget, be that a standalone autoclave, a full turnkey installation, fully integrated cooling and standalone vacuum systems, leading brand compressor packages, or component handling systems.
Specification Options:
Working temperature up to 400 degrees C
Working pressure up to 20 bar
0.5m to 5m working diameter
1.0m to 30m working length
Built to comply with either PD5500 or EN13445 or ASME VIII pressure directives
Electric or gas heated
Fully CE marked
Fully compliant with PM73 safety guidelines
SCADA based control systems
Duel loop profile controllers
Heating medium: electric or gas
Number of vacuum connections
Number of product thermocouples
Manual or fully automatic door systems
Nitrogen pressurisation
Variable vacuum systems
Fully integrated cooling
Component loading systems
Compressor systems
Working platforms or mezzanine floors
Drawbridge or scissor lift systems
Comprehensive training packages
Comprehensive user manual
Full turnkey installations