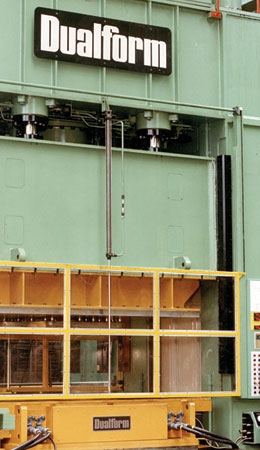 The patented Dualform process lends its name to this singular range of Double Acting Hydraulic Presses.
The process enables a matched set of top and bottom dies to be created simultaneously within the press itself, which can then be used for the manufacture of pressed parts within hours.

The tools are cast using "Jewelite", a unique, low melting point alloy, contained in a special "bath" within the press tool space (as pictured). After use, the tools are melted in situ and the same alloy used to cast a new set. This process makes the technology ideal for prototype, pre-production and other medium or low volume work.

The Dualform process enables the user to make significant savings in both production and tooling costs as well as dramatically reducing time-to-market for new products and designs.