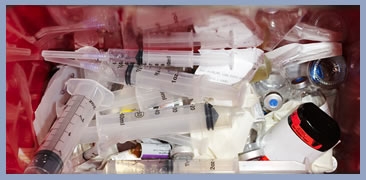 Rhodes Autoclaves offers a range of machines for the sterilization of medical waste. The combination of control system and steam control equipment are specified and tested to give high level system performance, control, and data logging, whilst ensuring pressurisation and depressurisation times are kept to a minimum. As with all our machines, safety systems are of paramount importance, designed and manufactured to be fully compliant with current legislation.
We offer every customer the option of carbon steel or full stainless steel vessel construction to meet both budget and specification requirements. Optional trolley or skip loading system design can be flexible to suit your process flow. Odour control is automatically activated at the end of every sterilisation process cycle.
All our systems are specifically designed to ensure easy access to the machine internals in order to reduce clean down and maintenance times.
Whether it is a stand alone autoclave, or a full turnkey installation including loading systems, steam boilers or vacuum systems, we have the solution to meet every specification and budget.
Specification Options: vessel material (Carbon steel or Stainless steel)
single or double door systems
automatic or manual loading systems
SCADA based Prodigy software or simplified profile control and monitor package
working temperature up to 250 degrees C
working pressure up to 10 bar
0.5m to 5m working diameter
1m to 30m working length
built to comply with either PD5500 or EN13445 or ASME VIII pressure directives
fully CE marked
fully compliant with PM73 safety guidelines
manual or automatic door systems
vacuum Systems
Integrated Steam Boilers
comprehensive training packages
comprehensive user manual
full turnkey installations