Group Rhodes receive order for Stretch Forming Machine
Group Rhodes has beaten off stiff international competition to win a multi-million pound order from an Indian aerospace manufacturer, for a 300/600 tonne Panel Stretch Forming Machine.
The machine is the first of its kind to offer 5-axis forming on a range of aluminum alloys. Ideally suited to produce aircraft fuselage panels up to 4 meters square and 2mm thick, stretch formed components offer an accurate finished profile with minimal spring back.
One of the largest aerospace manufacturing companies in the world, the customer operates 19 Production Units and 9 Research and Design centres in 7 locations in India. The Company has an impressive product track record, manufacturing twelve types of it's own aircraft, with a further fourteen types produced under license.
Commenting on the project, Group Rhodes Chief Operating Officer Barry Richardson said: "We were delighted to have received the order. Our industry expertise, tradition for innovation and our ability to provide highly technical and accurate machinery provided the customer with the confidence to place the order with Group Rhodes".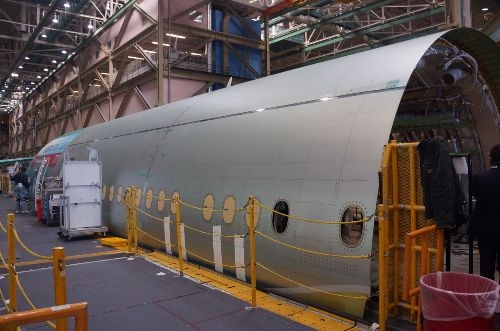 The photograph illustrates aircraft fuselage panels typically produced on a Rhodes Stretch Forming Machine.