Group Rhodes Chairman Celebrates 60th Anniversary!
Group Rhodes Chairman, Ian Ridgway, celebrated 60 years with Joseph Rhodes this month. Ian joined the company as a management apprentice in 1955 and gained an HND in Engineering studying at Wakefield Technical College.

Moving from the apprentice shop into the drawing office – where he spent four years – Ian progressed to become Assistant Works Manager, and then General Manager. He gained a seat on the board in 1967 as the Commercial Director and in 1969 became the Company Secretary. He became the first Managing Director of Rhodes Interform in 1976 and initiated the Management Buy-Out of Joseph Rhodes from Hanson Trust in 1984.

Outside the company, Ian Ridgway became both well-known and respected in the field of power-press manufacturing. For many years he was a very active member of the British Power Press Manufacturers Association and in 1974 he became its chairman. Ian held the post for six years, during which time the Association opened its doors to all European companies associated with presses and changed its name to the Metalforming Machinery Makers Association (MMMA).

Ian subsequently became chair of the European Power Press Manufacturing Panel, hosting meetings every year in no fewer than nine countries to develop a European Standard which became the specification for the introduction of the CE Mark for mechanical and hydraulic presses and press brakes.

In 2008 Ian was presented with a long-service award at Rhodes' Belle Vue base by Lord Digby Jones of Birmingham, but the ultimate accolade which his professional association could bestow was occasioned at a lunch in Birmingham in 2008. The lunch celebrated the 60th anniversary of the MMMA at which Ian was invited to become its Life President.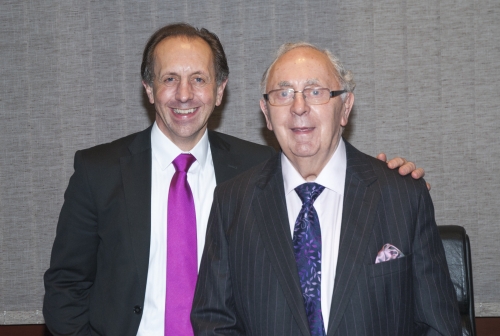 Group Rhodes Chairman, Ian Ridgway celebrates 60 years with the Company, with his son and Managing Director, Mark Ridgway OBE, DL.