Atkin Automation joins Group Rhodes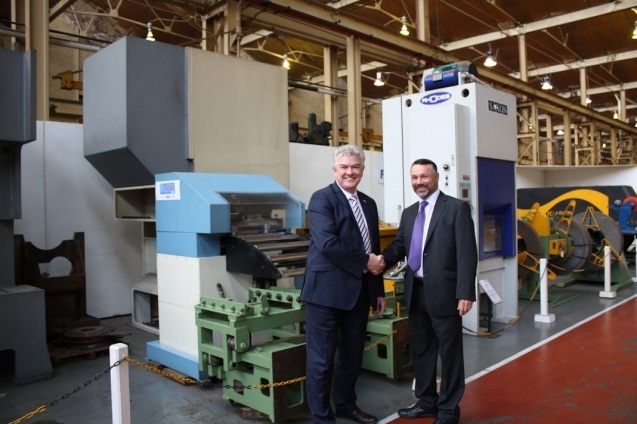 Group Rhodes has announced the asset purchase of Akin Automation Limited, and promised customers the continuous supply of complete turnkey solutions.
The two Companies have enjoyed a successful history, with Atkin Automation focussing its business on the manufacture of automated material handling equipment for Rhodes presses. Recent projects include an award winning automated processing line supplied to Hindalco (India), which measures an impressive 54 metres in length, and incorporates coil handling equipment capable of handling up to 10 tonne coils and a 250 tonne double sided mechanical press with programmable servo tool manipulation.
Atkin Automation incorporates both the W.T.Atkin and BHP brands, both long established UK companies providing engineering and industrial automation solutions to a wide variety of international industries.
Cheif Operating Officer, Barry Richardson (left), commented 'the purchase offers greater control over our supply chain, enhances our technical skills and ensures that we can continue to develop new solutions to meet our customer's needs."
Along with turnkey handling solutions, Atkin Automation will continue to supply a comprehensive selection of individual machines, ranging from Press and Coil Feed Equipment through to Coil Holders and Straighteners. Existing customers are also assured of the availability of genuine OEM parts for all existing machinery, supplied and fitted by dedicated service engineers based permanently in the field.
Sales Manager, Geoff Barker, (right) commented 'joining Group Rhodes will inevitably strengthen the commitment to our customers. Along with offering a complimentary product range to Group Rhodes presses, there is exciting synergy with group company, Hallamshire Engineering Services who specialise in heavy duty conveyor systems for the quarry and mining industry. I look forward to dealing with the many great opportunities which lie ahead'.