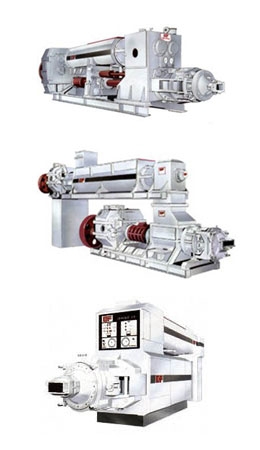 Our extensive range includes models suitable for both soft and stiff extrusion and most extruded sections eg: clay brick, hollow block, tile bats or sewer pipe at hourly capacities of between 5-80 tonnes per hour (green ware).
All Craven Fawcett worm sections are subjected to a combination of in-house treatments to ensure energy minimisation, longevity and component quality. After being cast, each worm section undergoes a unique heat treatment process in our own high temperature ovens in order to ensure an even distribution of chrome throughout the component.
TWO-STAGE DE-AIRING EXTRUDERS
Recommended for prepared clay feed for producing bricks, hollow blocks and field drain pipes.
Three lighter duty machines in the range with either ( 9" ) 225mm, ( 13" ) 330mm or (16") 406mm diameter auger worms, and usually supplied with a double shafted mixer.
Heavy duty machines combine from 350mm up to 670mm diameter extruder worms in high wear resistant 28% chrome alloy with large capacity double shafted mixer / pug sealer.
Various combinations of mixer to extruder mounting positions, in-line or at right angles (dependent upon machine).
Ideal for production of solid or perforated bricks and hollow ware.
Various types of die lubrication systems available.
Particularly suitable for stiff extrusion enabling products to be set directly onto a kiln car.
Easy servicing and maintenance via large access doors fitted to the de-airing chamber.
Split barrel available for easy access to worms and liners (optional on some machines).
Drive through vee rope pulleys, air clutch and independent reduction gearbox.
CENTEM EXTRUDER
350mm dia or 406 dia worms available.
In-line Mixer / Extruder.
Spur geared machine
CENTRIM EXTRUDER
406mm dia or 550mm dia worms available.
In-line Mixer / Extruder.
Optional spur or helical gearing
CENTAUR EXTRUDER
406mm or 510mm dia worms available.
Separate double shafted mixer / pug sealer which can be mounted in line or at right angles to suit plant layout.
Helical gearing fitted as standard.
Split barrel fitted as standard
CENTEX EXTRUDER
430mm dia, 500mm dia & 670mm dia worms available.
In-line Mixer / Extruder.
Helical gearing fitted as standard.
Split barrel fitted as standard.
Independent packershaft drives on 670 machine
CF 90 RANGE OF EXTRUDERS
Separate single shaft mixer / pugsealers can be mounted in line or at right angles to suit plant layout. ( 75AD & 90BD models only ).
Drive through independent reduction gearboxes with helical gearing.
Double vacuum pugsealers available as an option should extra pugging be required.
Suitable for extrusion of bricks or clay pipes
LIGHT DUTY TWO STAGE DEAIRING EXTRUDERS
Model
Bricks/Hour
Power Input (kW)
9" ( 230mm ) PMG
1,000 – 1,500
37
13" ( 330mm ) PML
3,000 – 4,000
60
16" ( 406mm ) PML
5,000 – 8,000
110
HEAVY DUTY TWO STAGE DEAIRING EXTRUDERS
Model
Bricks/Hour
Power Input (kW)
CENTEM 350 / 406
3,000 – 5,000
90 – 110
CENTRIM 410 / 550
8,000 – 13,000
110 – 150 ( Extruder ) 60 – 75 ( Pug Sealer )
CENTAUR 510 / 406
10,000 – 16,000
110 – 185 ( Extruder ) 60 – 90 ( Pug Sealer )
CENTEX 430 / 670
12,000 – 20,000
150 – 260 ( Extruder ) 75 – 110 ( Pug Sealer )
CF90 RANGE OF EXTRUDERS
CF STEELE 60F
10,000 – 13,000
150 ( Extruder ) 90 ( P. Sealer )
CF STEELE 75AD
12,000 – 15,000
185 - 220 ( Extruder ) 110 ( Pug Sealer )
CF STEELE 90BD
15,000 – 30,000
224 - 450 (Extruder ) 115 – 224 ( Pug Sealer )