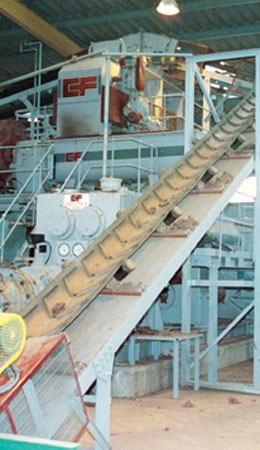 Craven Fawcett Limited design and manufacture a full portfolio of clay preparation machinery ranging from Box Feeders and Grinding Mills through to Mixers and Extruders.

In addition to supplying high quality Original Equipment Manufacturer (OEM) products and services, Craven Fawcett places great emphasis on spare part design, material selection and component finish in order to optimise production efficiency and reduce the frequency of machinery repair. Highly trained and experienced service engineers dedicated to clay preparation machinery are available at short notice to repair and maintain Craven Fawcett equipment in the field.

Craven Fawcett clay working machinery is exported throughout the world, successfully competing for international market share on the basis of design, price and build quality. Craven Fawcett Extruders, for example, are renowned for their robustness and production efficiency, operating in some of the most difficult production environments in the world. (see also Group Rhodes company; Berry Refractories).
The Group operates from an 8-acre site in Wakefield, West Yorkshire (right) with over 15,000 sq. metres of factory space under cranage. This extensive production facility ensures that all aspects of machine build are controlled to the Group Rhodes quality (ISO 9001:2000), environmental (ISO 14001:2994) and European safety (CE) accreditations.